Sail Structures specialise in the design and installation of tensile membrane structures.
Tensile membranes can economically and attractively span a large area, through the support of a structural frame. Its unique flexibility allows for unlimited designs and elegant forms.
Applications
Architectural lightweight structural solutions
Commercial enclosures
Residential enclosures
Mobile Aircraft hangars
Stadiums
Warehousing and Storage
Advantages
Available in PVC, PTFE and ETFE
Lightweight and Economical
Broad range of products available to Engineers and Fabricators
Features include Fire retardant, High Tensile Strength and Range of Colours
UV protection up to 98% UV block
Fabric manufacturer's warranty 10-25 years
Environmentally sustainable
Cleaning and maintenance service available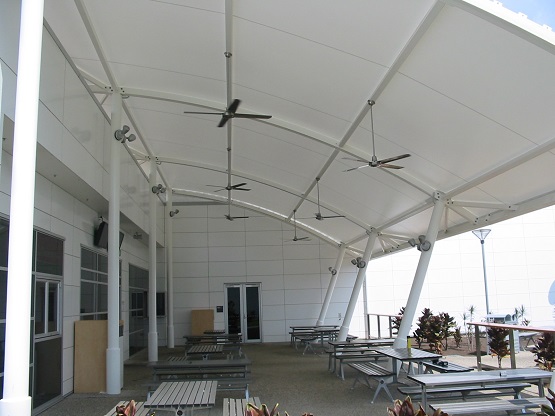 Product Specifications

Mehgies (Mehler) and Serge Ferrari are the two (2) preferred suppliers of PVC to Sail Structures.
Each supplier has an extensive range of products available to us as your designer and fabricator, ensuring the best quality.
Ask us for more information about fabric options for Tensile Membranes today.